2018 Incident Stats
Fire
EMS
Total
Jan
14
58
72
Feb
10
53
63
Mar
23
42
65
Apr
24
53
77
May
-
-
-
Jun
-
-
-
Jul
-
-
-
Aug
-
-
-
Sep
-
-
-
Oct
-
-
-
Nov
-
-
-
Dec
-
-
-
Total
71
206
277
14 Year Incident Stats
Fire
EMS
Total
2017
143
633
776
2016
190
670
861
2015
166
601
767
2014
187
541
728
2013
135
516
651
2012
165
461
626
2011
174
506
680
2010
178
526
704
2009
179
481
660
2008
171
498
669
2007
145
470
615
2006
147
403
550
2005
140
471
611
2004
118
459
577
Total
2238
7236
9475



Web Counters
Visitors Today:
333
Visitors Since
May 15, 2007:
1,436,324
Use of Website Material:


Duplication of text, photos or any other content published on this website, is prohibited without permission of the White Horse Fire Company. (Content used from sources outside of the Company are credited to the author and/or photographer if known.)
Fire Call Log 3/16 to 3/31/17
By Firefighter/EMT Christopher Eno
March 31, 2017
03/22/2017…13:23:04… Outbuilding Fire, 300 block of Ash Road in West Caln Township. Engine 49-1.

03/25/2017…08:26:11…Outbuilding Fire, 5900 block of Mast Road in Salisbury Township. Engine 49-1, Engine 49-2, Tanker 49, Squad 49-1. Assisted by Honey Brook, Churchtown, and Garden Spot Fire Companies, and Elverson-Honey Brook Area EMS.

03/30/2017…16:30:42…Standby Transfer, Honey Brook Station 33 in Honey Brook Borough. Engine 49-2.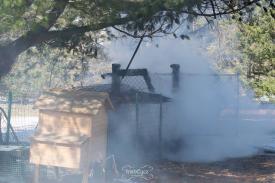 Ash Road Outbuilding Fire (a chicken coop). (Photo Courtesy of IrishEyez Emergency Services Photography)